Family Planning Associates Medical Group (FPA) Response to the Coronavirus COVID-19 Outbreak
Quality Compassionate Reproductive Health Care Personalized to Fit Your Needs
What Family Planning Associates is Doing Now in Response to the Coronavirus Outbreak
At Family Planning Associates (FPA) we work hard everyday to provide safe, quality medical care. We recognize that there have been a lot of changes because of the coronavirus (COVID-19) outbreak, and we have made many changes in our practice as well.
To help minimize the spread of coronavirus:
Our entire staff has been vaccinated against COVID-19 for the safety of our patients, our families and our community
Mask use is required for all staff, patients and guests, please make sure your mask fully covers your nose and mouth
We thoroughly clean all surfaces throughout our offices
Surfaces that are frequently touched, like door knobs, pens and clip boards are routinely sanitized
Staff is educated about COVID-19 symptoms and preventative measures
Hand sanitizer is available for our staff and patients
Patients are screened before their appointment for COVID-19 symptoms and again when they arrive at the office
Signs are posted in our entrance stating that anyone who has a fever, cough or any COVID-19 symptoms must leave the office immediately and call our office to reschedule
Guests are not allowed inside the clinic waiting areas to help with social distancing
Requests for Patients and Guests of FPA
Limit or Delay Visits When Possible
On the Day of Your Appointment
Two Convenient Family Planning Associates Medical Group Chicago abortion clinic locations
downtown
659 W. Washington Blvd.
Chicago IL 60661
Fax (312) 707-9223
parking info:
Parking Info: Our Chicago Loop facility has City of Chicago metered parking available on the street as well as a private third-party parking lot available for a fee, directly across the street from our office. Many parking lots and meters only accept credit card payments, and cannot accept cash.

It is a good idea to come early for your visit because finding parking can take a little extra time. Please call for more information.
northwest
4341 N. Milwaukee Ave.
Chicago IL  60641
Fax (312) 707-9223
parking info:
Our Northwest Chicago office has City of Chicago metered parking available on the street in front of the building. While we do not have a parking lot, there is free parking on Milwaukee Avenue just south of Pensacola Avenue if you prefer not to pay for metered parking. Please call for more information.

City meters only accept credit card payment and quarters – they do not accept cash or provide change.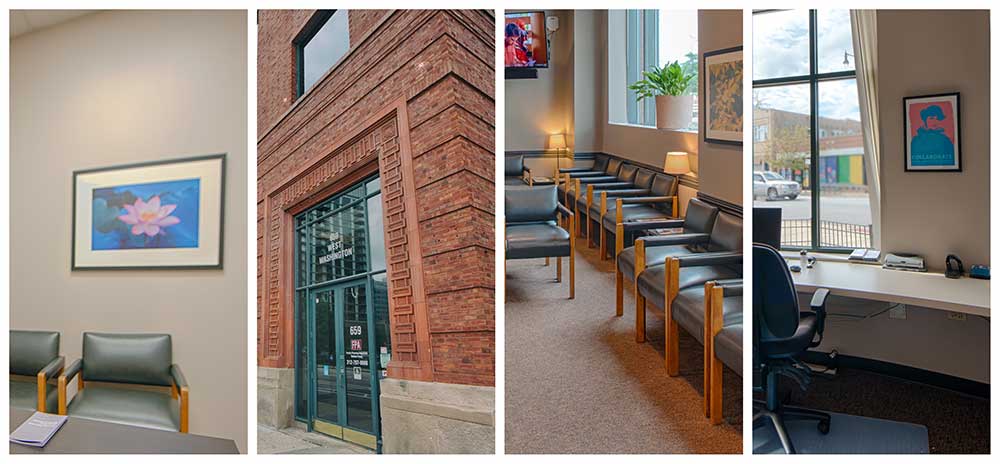 Registration Forms
You can complete your registration forms before you arrive. Simply download, print and fill out the forms. Please use a black ink pen only. (Adobe Acrobat Reader Required)