Family Planning Associates Abortion Options
Quality Compassionate Reproductive Health Care Personalized to Fit Your Needs
About FPA Chicago Abortion and Family Planning Clinics
Family Planning Associates (FPA) is one of the most trusted independent abortion providers in the United States. Since 1988, patients in Chicago have come to FPA for quality, professional, and affordable family planning services, including abortion care up to 23.5 weeks.
Our medical staff is lead by a team of by board certified OB/GYN physicians. Our nurses, medical assistants, technicians, nurse practitioners, physician assistants and certified registered nurse anesthetists are carefully chosen because of the sensitive nature of the care we provide. Read more about our staff here.
FPA is committed to providing confidential and personalized care. Patient education is an important part of our practice.
We offer comprehensive reproductive health care including the abortion pill up to 10.0 weeks, first trimester abortion procedures up to 13.6 weeks, second trimester abortion procedures up to 23.5 weeks, a wide range of birth control options, and gynecological exams.
Medication to Induce an Abortion
Abortion Up to 15.6 Weeks
Abortion Up to 23.5 Weeks
We are located in Downtown Chicago and Northwest Chicago and our staff can help you find the best location for your needs – Call us 312-707-8988
We offer different services at each of our locations and will make every effort to accommodate your schedule
Our FPA Chicago abortion and gynecology clinics are designed to provide a warm, private environment for your comfort
Our clinics utilize modern medical equipment and best practices in patient care
All of our physicians and clinicians are professionally trained and kept up-to-date in all aspects of pregnancy prevention, pregnancy termination, and gynecological care
We provide expert abortion care and reproductive health care services which include pregnancy prevention (birth control) and pregnancy testing, pregnancy termination, gynecological exams, infection checks and STD testing
We offer affordable fees and financial assistance is available
Se habla en Español
Scheduling An Appointment
For your convenience, we offer secure online appointment scheduling for abortion, reproductive and gynecological health services at FPA. Please know that if at any time you are uncomfortable with providing personal information online, you can always call us to schedule an appointment.
Family Planning Associates Medical Group Chicago abortion clinic and family planning provider
Downtown Chicago
659 W. Washington Blvd.
Chicago IL 60661
Fax (312) 707-9223
parking info:
Parking Info: Our Chicago Loop facility has City of Chicago metered parking available on the street as well as a private third-party parking lot available for a fee, directly across the street from our office. Please call for more information.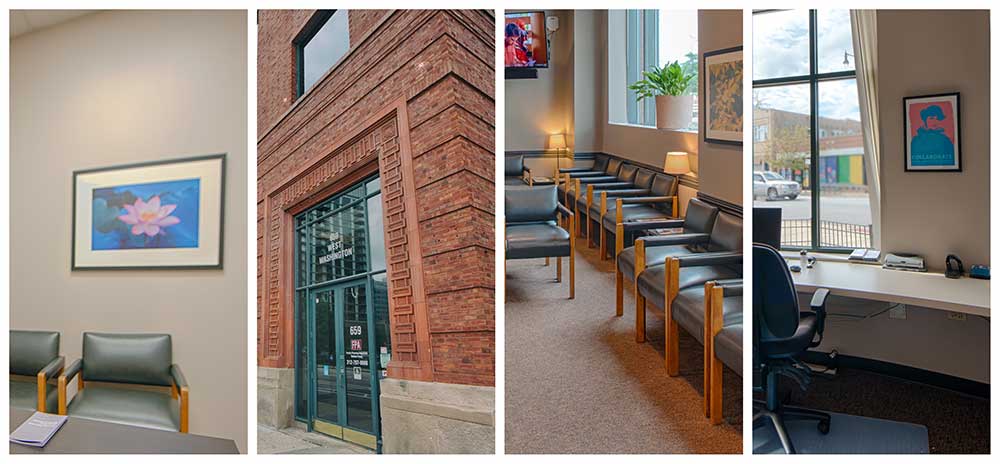 Registration Forms
You can complete your registration forms before you arrive. Simply download, print and fill out the forms. Please use a black ink pen only. (Adobe Acrobat Reader Required)