Abortion Care
Quality Compassionate Health Care For Women
Abortion is a legal, safe and common medical procedure. One-third of women in the United States will have an abortion before age 45. FPA is committed to providing quality, compassionate women's health care services, including abortion up to 23.5 weeks.
We offer medically accurate information about the care we provide so you can make a fully informed decision. Our medical team is lead by a group of physicians who are Board Certified in Obstetrics and Gynecology and are on staff at Northwestern Memorial Hospital. They have dedicated their careers to ensuring that women have access to safe abortion care.
Learn More About Your Abortion Options
Up to 10.0 weeks
The Medication Abortion (also called the 'Abortion Pill', Mifeprex, mifepristone, or RU-486) provides women with a medical alternative to the in-office abortion procedure. With two medications, you can induce an abortion the comfort of your home.
Up to 13.6 weeks
This in-office procedure is very safe and very short – normally 5-7 minutes. We offer sedation if you do not want to feel any cramping or discomfort during the procedure. We also offer a local anesthetic option if you do not want to be asleep for the procedure.
Early Second trimester abortion
14.0 to 15.6 weeks
Early second-trimester abortion procedures are performed in one day. A medication is used to help soften and prepare the cervix for this in-office procedure. Sedation is provided during the procedure so that you will not feel any cramping or discomfort.
Second trimester abortion
16.0 to 23.5 weeks
Second trimester abortion procedures, performed after 16 weeks, require 1-2 days of preparation. Laminaria dilators and medications are used to help soften and gently open the cervix. Sedation is provided with this procedure for your comfort and safety.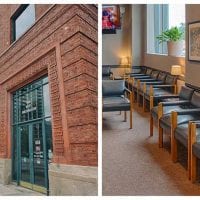 FPA offices are modern, professional and designed with your comfort in mind. It is our goal to offer our patients support throughout this process, but we also encourage you to bring a trusted partner, friend, or family member with you to your visit.
At FPA we are truly pro-choice and we support all pregnancy options – not just abortion. We offer referrals for prenatal care, adoption, and counseling so you can fully explore your options, and make  the best choice for you. If you have any questions or concerns, please do not hesitate to contact us by phone, e-mail or through our live chat service.
Registration Forms
You can complete your registration forms before you arrive. Simply download, print and fill out the forms. Please use a black ink pen only. (Adobe Acrobat Reader Required)