Urine Pregnancy Testing
Quality Compassionate Reproductive Health Care
Are urine pregnancy tests accurate?
Urine pregnancy tests are an easy and accurate way to find out if you are pregnant right away.
FPA offers free Early Pregnancy Testing (EPT) to our patients. This is a sensitive test capable of detecting pregnancy hormone sometimes as early as 10 days after conception.
If you take a test at home that was purchased at a pharmacy make sure to check the expiration date and read all of the instructions before opening the test.
Pregnancy tests are most accurate:
When you take the test after you have missed your period
When you take the test in the morning right after you wake up because the pregnancy hormone is most concentrated at this time
How does a pregnancy test work?
Pregnancy tests work by checking your urine for a hormone called human chorionic gonadotropin (HCG). Your body only makes HCG when you are pregnant. HCG is released when a fertilized egg attaches to the lining of the uterus. If your pregnancy test results are positive, it means you're pregnant. If they're negative, it means you're not pregnant.
Most medicines should not affect the results of a early pregnancy test. This includes over-the-counter and prescription medicines such as birth control pills and antibiotics. Alcohol and illegal drugs do not affect pregnancy test results.
How soon can I take a pregnancy test?
You may get more accurate results if you wait until after the first day of your missed period, because the amount of the pregnancy hormone (HCG) in your urine doubles every 48 hours when you are pregnant. The earlier you take the test, the harder it is for the test to detect the HCG.
If your periods are irregular, or you don't get periods at all we recommend that you take a pregnancy test about 3 weeks after you have sex.
It's a good idea to take a pregnancy test as soon as possible if you miss your period or think you might be pregnant so you can seek medical care right away.
Where can I get a pregnancy test?
At Family Planning Associates we offer free urine pregnancy testing. You can walk in anytime during our regular business hours to request a pregnancy test. Results are available within 10 minutes on most days. We are happy to provide confirmation of a positive pregnancy test for your records, at your request.
You can buy a pregnancy test at your local pharmacy, drugstore, or grocery store if you would like to take a test at home. Pregnancy tests are usually inexpensive — they can cost as little as a few dollars.
You could get a pregnancy test from the doctor who you normally see. Most medical offices use tests that are similar to the urine pregnancy tests that you can buy in stores.
It is important to be careful if you decide to go to a medical office that you have never been to before for a pregnancy test. Crisis Pregnancy Centers often advertise free pregnancy tests and free ultrasounds, but they are often not medical facilities, and most of their volunteers who work directly with women are not medical professionals. These centers exist because they want to keep women from having abortions. They often misinform and intimidate women to achieve their goal. Women who have gone to these centers describe being harassed, bullied, and given false information.
The National Abortion Federation's toll-free Hotline (1-800-772-9100) and website offer women unbiased, factual information about pregnancy and abortion in English, Spanish and French. The Hotline also provides referrals to high-quality health care providers in the United States and Canada.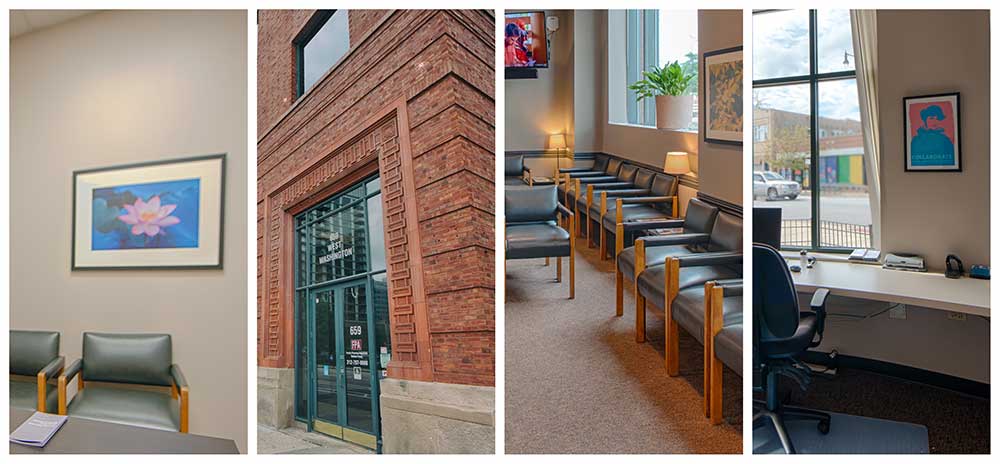 Registration Forms Available for Download
You can complete your registration forms before you arrive. Simply download, print and fill out the forms. Please use a black ink pen only. (Adobe Acrobat Reader Required)